EquityZen allows Rocket Dollar members to access pre-IPO stocks using EquityZen's online trading marketplace. 
Before creating an account with EquityZen, you will first need to create a Rocket Dollar account at RocketDollar.com. 
Please note that the time required to fund your Rocket Dollar IRA depends on your transferring custodian's processing time and can take anywhere from two to ten business days.  We recommend calling your previous custodian after you receive notification from Rocket Dollar support that your request has been submitted to confirm your transfer is in process and complete any additional steps the previous custodian requires.  If possible, request an expedited turnaround time on your transfer. 
In the meantime, you can commit to your investment on EquityZen by following the steps below: 
1) Visit EquityZen's website and either sign in to your existing account or create a new one by hovering over the Login in the upper right-hand corner.  If this is your first time on EquityZen, you will be asked to provide basic personal information in order to create your account.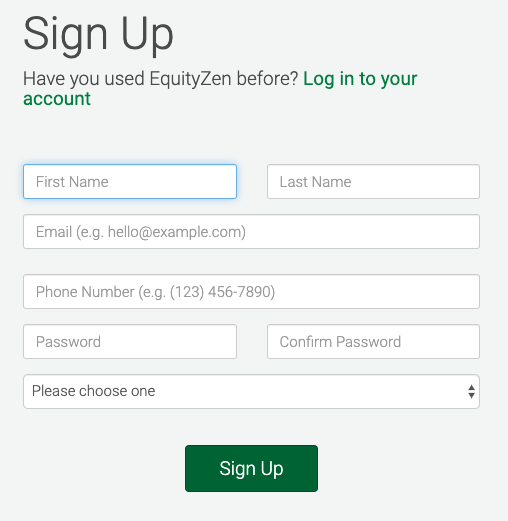 After setting up an account you will be prompted to verify that you are an accredited investor. You can find additional information on accredited investors on the SEC's website.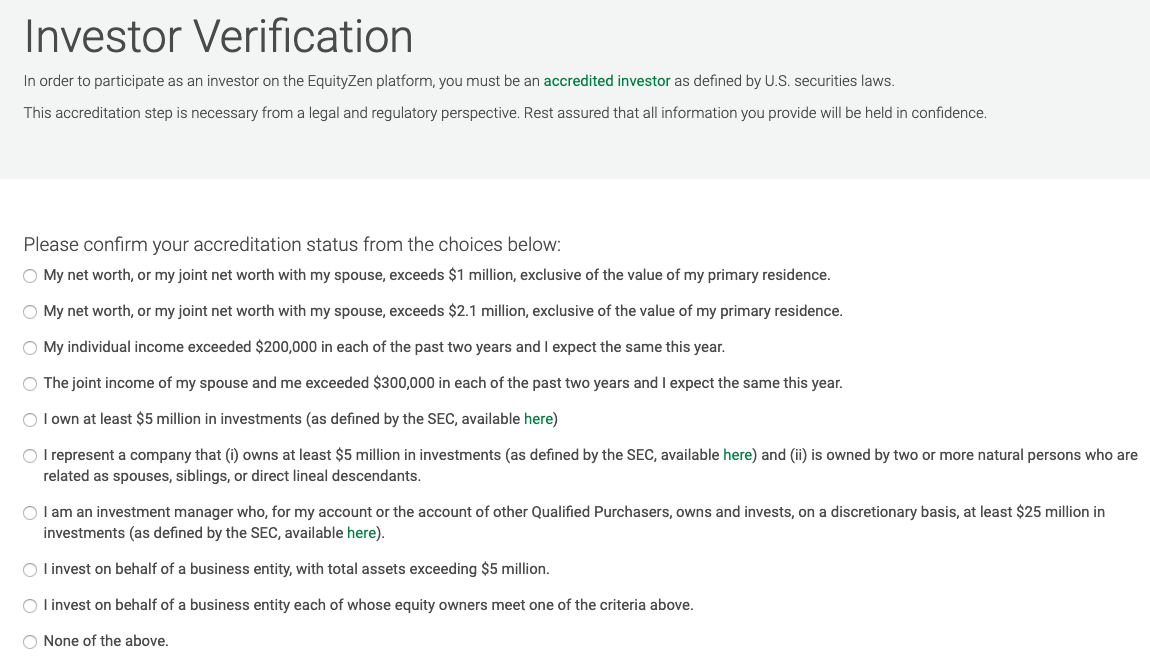 After confirming your investor accreditation, you will then be asked to complete a suitability questionnaire.  This is a necessary step in the process, the questionnaire will determine your risk tolerance as it applies to the investments available on the EquityZen platform.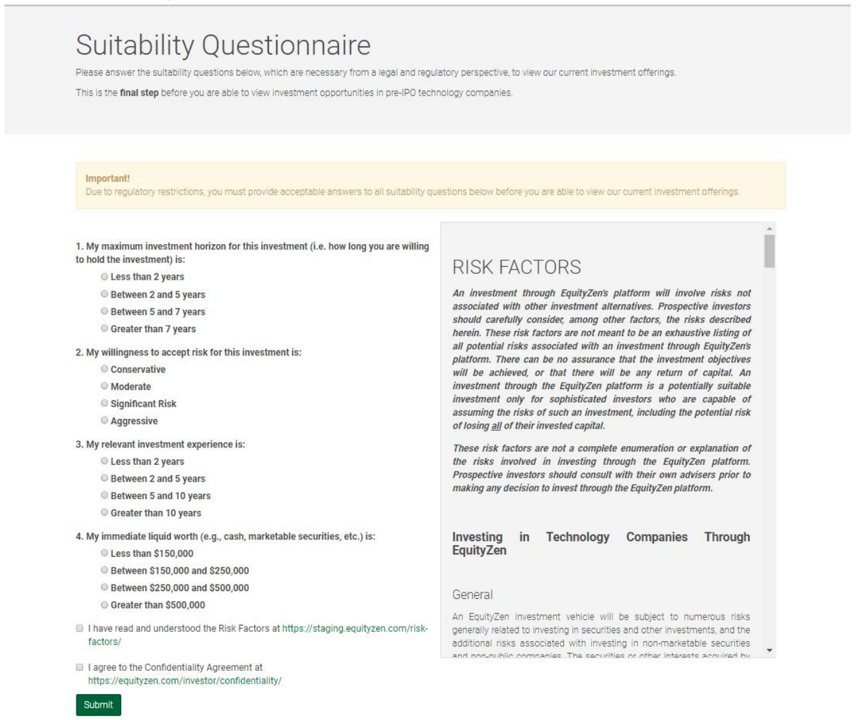 After you have completed the questionnaire, click Submit!  Once EquityZen has confirmed your accreditation and suitability, you'll then be able to browse the offerings available on EquityZen's website. 
Please note: the only offerings that will be available to you are those that go live after the date on which your account becomes active.  
In order to indicate that you are investing through your Rocket Dollar IRA, you need to go to your Account Settings and make the following adjustments:
Change the

 

Entity Type

 

to

 

Self-Directed IRA, and enter the name of your IRA. Please contact customer support to get the correct titling of your IRA.
Subscription Agreement Must Also Include:

Investment Amount

Custodian Name, Address, and the TIN number. Please contact customer support for this information.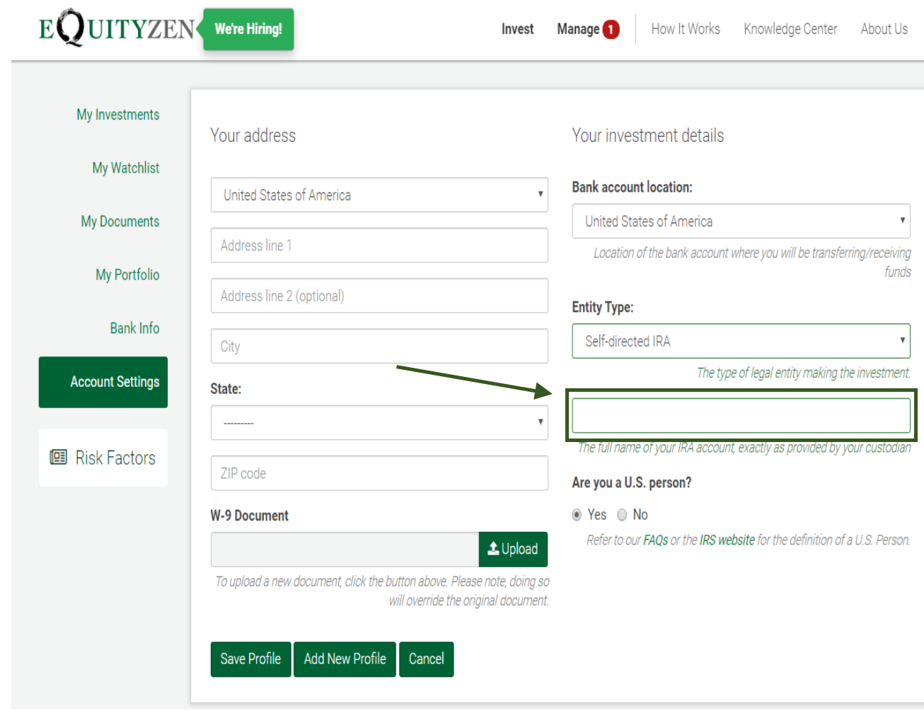 On this page, click Invest on the right side of the company ribbon to view the offering documentation and enter your commitment details.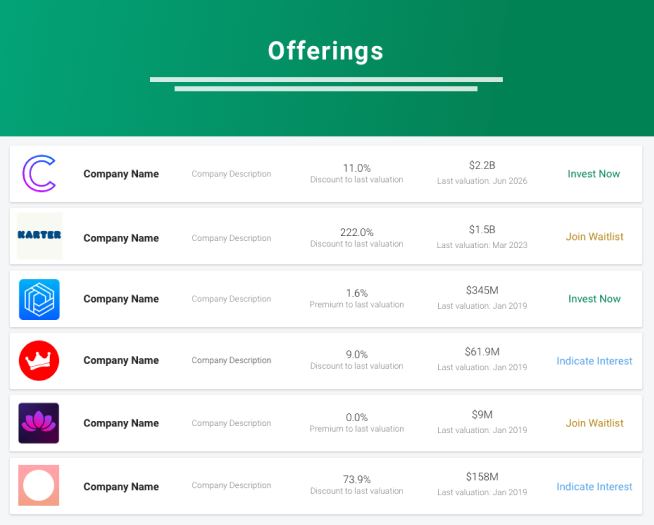 Once you have decided to move forward with an investment, you will be required to proceed through and e-Sign the Term Sheet, and review Sub Doc and Tax Form. Elect to have your funds transferred by WIRE. Origination instructions below.
Bank Name
Account#
ABA/Routing 
Account Name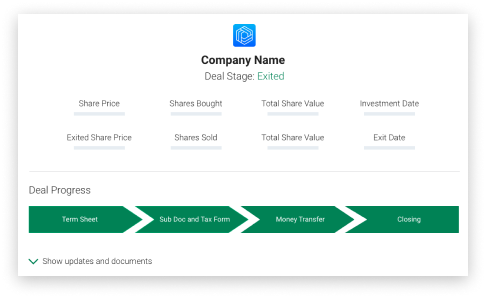 Once EquityZen has processed your request, please contact our support team at support@rocketdollar.com for additional instructions on how to load them into our secure Dropbox.
Rocket Dollar support will instruct you to submit the following documents:
Private Placement Memorandum
Signed Operating Agreement
Subscription Documents
Rocket Dollar Hold Harmless (bottom of this article) - wet-signature required
Rocket Dollar "DOI" Direction of Investment (bottom of this article) - wet-signature required
Your investment will be reviewed within 3-5 business days, and funding will be sent once final approval has been given.
If it's your first time investing with Rocket Dollar, please contact our sales team at info@rocketdollar.com, call 855-762-5383 M-F 9am - 6pm CT, or schedule a call here: Sales Calendar.