Yes. If you tie your Solo 401(k) account name or IRA LLC EIN to your brokerage account, you will be able to manage investments in stocks, bonds, mutual/index funds, ETFs, and other publicly traded securities alongside alternative investments.
Where can I open a brokerage account with my Rocket Dollar IRA?
You can open a brokerage account at any stock brokerage that has an LLC application. You would need to specifically go to their business/entity account that an investment LLC would apply to. As a disregarded entity, your LLC should not have automatic tax reporting and should submit a W-9.
In a Self-Directed Solo 401(k) with a trust or a Self-Directed IRA with an LLC, you can open a brokerage account in the name of the retirement trust and trade public securities. However, you cannot have a margin account. You'll need to use the EIN of the Self-Directed Solo 401(k) trust or your LLC in an IRA instead of your SSN when you set up a brokerage account.
There are other institutions specializing in these stocks and bonds asset classes; however, most will not allow you to hold both standard and alternative assets or have extremely limited alternative asset menus. Using a Rocket Dollar account will help you maximize your diversification across your entire retirement portfolio.
For a Self-Directed IRA/LLC, you should open a corporate/business/entity trading account.
For a Self-Directed Solo 401(k), you should open a trust trading account on behalf of your new Rocket Dollar Solo 401(k) Trust.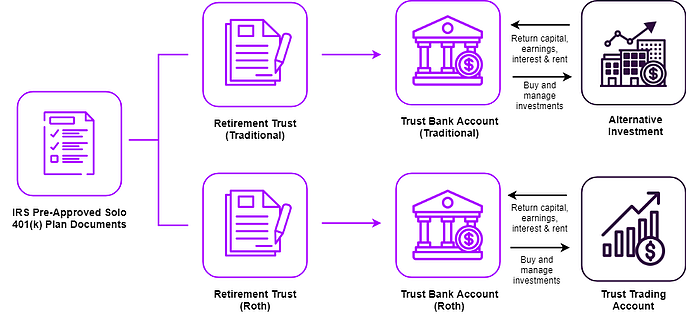 Is there anything I can't do compared to a normal brokerage or IRA trading account?
You cannot short stocks. You can trade options, puts, and calls as long as they do not require a margin account. You can't trade naked puts and calls, as this strategy would require a margin account.
Extensions of credit are prohibited transactions. Here are some examples of prohibited transactions.