Crowdfunding investments do not have a special status or extra limits to hit through a retirement account.
What are the crowdfunding limits according to my net worth and income?
The following is from SEC.Gov. You can visit their crowdfunding compliance guide for more information.
From the SEC: Investors Subject to Limits
Individual investors are limited in the amounts they are allowed to invest in all Regulation Crowdfunding offerings over the course of a 12-month period:
If either of an investor's annual income or net worth is less than $107,000, then the investor's investment limit is the greater of:
$2,200 or
5 percent of the lesser of the investor's annual income or net worth.

If both annual income and net worth are equal to or more than $107,000, then the investor's limit is 10 percent of the lesser of their annual income or net worth.
During the 12-month period, the aggregate amount of securities sold to an investor through all Regulation Crowdfunding offerings may not exceed $107,000, regardless of the investor's annual income or net worth.
Spouses are allowed to calculate their net worth and annual income jointly. This chart illustrates a few examples of the investment limits: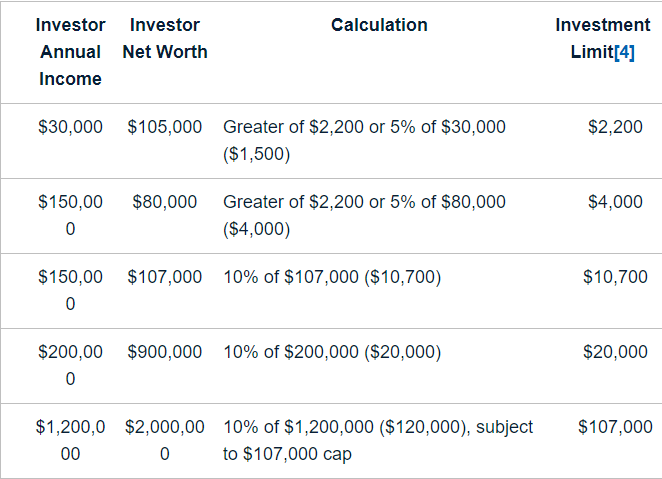 Is this calculated by the calendar year or rolling timeline?
This is a 12-month rolling period. For example, if all your crowdfunding investments were in June 2018, in July 2019 you can contribute again. Making sure you calculate correctly is your responsibility as an investor. Review the exact dates of commitments to investments carefully. Be aware that the actual commitment date could be different than when you first viewed the deal, and consult the final deal paperwork.
Does Rocket Dollar help me calculate if I have hit my limit?
No. At Rocket Dollar, because of the nature and extreme variety of alternative investments, investments are self-reported in our investment tracker. If you are unsure if you can still contribute to a crowdfunding deal, check with your investment platforms and a CPA/Tax advisor that you have placed investments in a 12 month period.