Fill out the W-9 according to the steps outlined below. Many investment issuers and sponsors will ask you for a completed W-9.
Filling out the W-9
For Line 1, use the following formula: Name of Custodian, FBO First Name Last Name IRA. For example, if you have a Rocket Dollar Self-Directed Traditional IRA LLC, your Line 1 will say: "Solera National Bank, Custodian FBO John Doe Traditional IRA." Be sure to use the right custodian.

Rocket Dollar's custodians are Solera National Bank or IRAR Trust Company.

For Line 2, enter your LLC name.
For Line 3, check the box for a sole proprietorship or single-member LLC.
For Line 4, enter "1" as the exempt payee code. This is important because this is how you indicate to your investment issuer/sponsor that your account is tax-exempt.
For Lines 5 and 6, enter the address for the LLC (e.g., 1111 Anywhere Avenue). For most customers, this address is the address you used when you signed up for Rocket Dollar.
For Part 1 Taxpayer Identification Number, enter the EIN of your Custodian in the box. As the Colorado LLC is a disregarded entity, using the IRA custodian's EIN shows that the account is inside of an IRA. If your investment is likely or going to trigger UBIT/UDFI tax, (Real Estate Investments getting a non-recourse loan) you should list the Colorado LLC EIN that is provided in your documents section of your Rocket Dollar dashboard.

If your custodian is Solera National Bank, input: #84-4416888
If your custodian is IRAR Trust Company, input: #83-1624780

For Part 2, sign your name and you can include "Manager" as your title on the signature line if there is room.
Here's a link to download and print a blank W-9 from the IRS
See an example below of the W9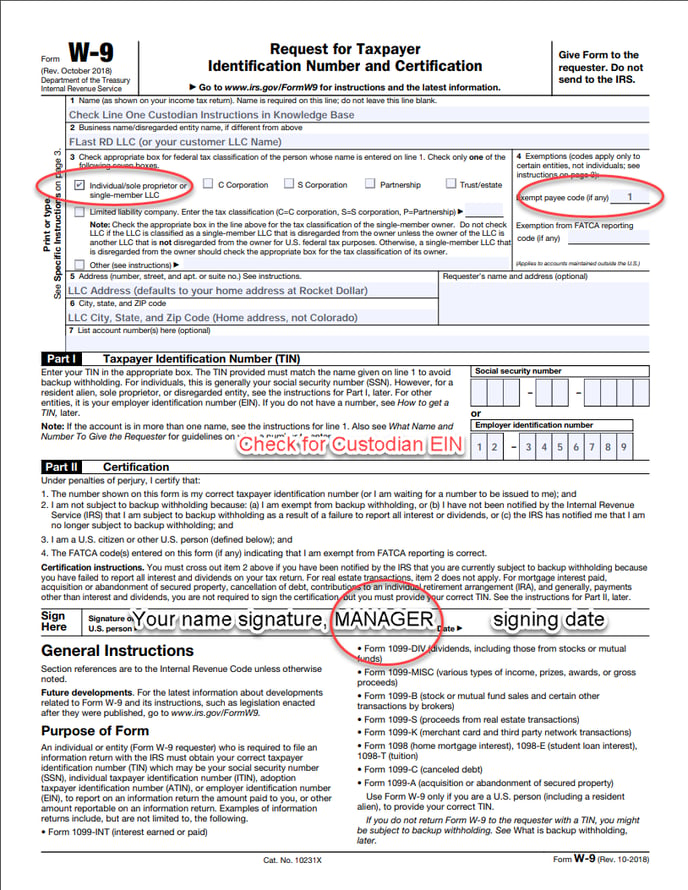 Additional FAQs

Why would I fill out a W-9?
Your investment issuer or sponsor may ask for a W-9 form so they can handle tax reporting appropriately.
Why do I put the custodian EIN instead of the LLC's EIN?
The LLC is an investment in the IRA, so the appropriate EIN to use is the custodians.