Sign up on the Rocket Dollar website in about 5 minutes.
1. Solo 401(k) Document Preparation in Progress
Our team will now be in the process of preparing your Solo 401(k) documents. In 2-3 business days, your documents will be ready.
2. Bank Account Setup
With our bank partner, the process is digital and is opened within 4-5 business days for SILVER. Our Gold Accounts will have their bank accounts opened in 1-2 business days. Our team will provide proper account opening instructions via email.
3. Fund Your Solo 401(k)
Our Support team can help you rollover from an old 401(k), an old IRA, or set up an annual contribution. Our Support team will reach out and help you initiate a rollover.
4. Start Investing
Once your funds reach your new bank account, you have the power of checkbook control over your retirement funds! You can send a bank wire, check, or ACH from our partner bank. All investments should be titled in the name of your Solo 401(k). If there is an investment process option for a Solo 401(k), always instruct your investment issuer to notate your investment in the name of the trust, and always sign as the trustee.
If you want help on how to fund your account, you can visit a detailed article here.
You can also visit our Partners page.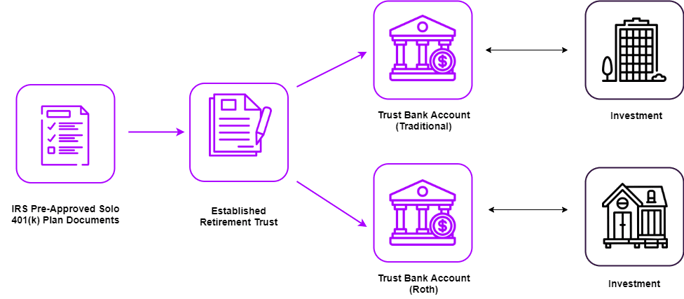 How long will this take?
2-4 weeks from zero to funded, from purchasing your Rocket Dollar account until you are deploying your dollars. This includes the time to open your account, your trust, and the biggest possible hold-up is waiting on your rollover retirement dollars to transfer over.
401(k)-to-401(k) transfers can be particularly slow with some providers, as they can ask for distribution forms which might require approval by your old employer. Some 401(k) providers still require sending physical checks.
If you purchase a Rocket Dollar Gold account at checkout, we are pushing to open your account in 15 days. We will provide white-glove assistance for transfers as well as prioritized one-on-one time to make sure your account fulfillment is free of issues.
Compliance
Rocket Dollar will keep your Self-Directed Solo 401(k) plan compliant. Laws change from time to time, and it's our responsibility to provide you with an updated plan document when that happens. You may occasionally get a new document from us or receive an amended plan document. You'll see these documents in the Rocket Dollar Dashboard.
Rocket Dollar works with plan documents that are pre-approved by the IRS.