There are pros and cons in deciding if Direct Custody or Checkbook Control is right for you. Figure out which one fits best fits your needs and investment style.
The growth of checkbook control has given rise to the ability to have options.
Traditionally, the self-directed retirement investing world was only an option for the mega-rich with high opening costs and a complicated, extensive process. However, as the demand for more control over retirement funds grew, Rocket Dollar has aimed to open up the industry of self-directed retirement investing to everyone. With a quick, easy, and inexpensive process, anyone can have checkbook control.
How do I figure out what is right for me?
Direct Custody Overview
UPDATE: Rocket Dollar will be launching more direct custodial products in Fall 2020. At this point in time, a direct custody account requires a Gold Account.
Pros:
Easier for first-time or learning alternatives investors
Initial setup is sometimes less expensive and quicker than checkbook control
A clear process for one investment or a very small number of investment
Cons:
Expenses and fees can rise sharply with multiple investments
All investments must be reviewed by the custodian
Can be tough for complex, hard-to-value assets to get past deal review (startups, private loans, international, crypto)
Approved investment classes are at the whim of the custodian
Structure: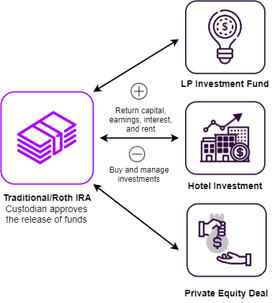 Checkbook Control Overview
Rocket Dollars Self-Directed account options can be found on the homepage.
Pros:
Recommended for sophisticated investors looking to invest in diverse asset classes
Once the longer setup is complete, easy to use
More direct ownership of investments all through an LLC and bank account
No wait-times for custodial approval
Invest in asset classes not approved by a custodian (as long as it is not an IRS prohibited transaction)
Have control of a checkbook bank account, checks, and debit card to manage investments
Cons:
Often more expensive and longer to initially set up
Requires active participation by the account holder
Structure: